Video Profile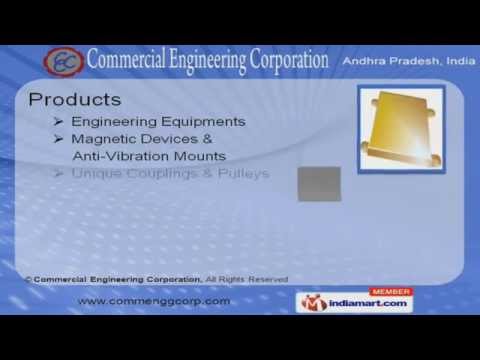 Engineering Equipments by Commercial Engineering Corporation Secunderabad
Welcome to Commercial Engineering CorporationManufacturer & Supplier of Magnetic & Engineering GoodsThe company was incorporated in the year 1964 at Secunderabad. Our Effective packagingfacility & reliable vendor base helped us to cater clientele across Indian Subcontinent. Thorough inspections of quality, on timely delivery services, Large Production Capacity & Assured quality make us superior from others. Our product list includes Engineering Equipments, Magnetic Devices, Anti-Vibration Mounts, Nuteck Gear Couplings Pulleys, Industrial Chains, Gears Units & Trolley Wheels. Our Drive Tensioner are highly demanded in the market. Along with that we also offer Anti-Vibration Mounts, Hopper Magnets & Permanent MagneticPulley. We provide Diaphragm Type Flexible, Pin Bush Couplings & MECTRON V-Pulley at industryleading prices. ?%u20AC%u02DCO?%u20AC%u2122 Ring Chains, Accumulator, Attachment Chains, Adaptable, Hollow Shaft & Gear Units arebest in the markets. Our Roller Chain, Nuflex Flexible, Torque Limiter Couplings, Standard & Special Sprockets are aclass apart.
Send us a Quick Message!
Tell Us What Are You Looking For?
View Mobile Number
to reach us quickly
© Commercial Engineering Corporation. All Rights Reserved
(Terms of Use)